Forthcoming - Exhibitions - Publications - Links - Contact
You can either pay by bank transfer (please contact us for our bank details), or use the international online payment system Paypal (www.paypal.com), with "info@mathieucopeland.net" as the destinatory address. Packages are sent as soon as we receive the payment, with economy service; please contact us if you wish it to be delivered in priority.
Le montant des commandes en ligne peut être réglé par virement bancaire (frais de transfert à votre charge, veuillez nous contacter pour obtenir nos coordonnées bancaires ), ou avec le système de paiement en ligne Paypal (www.paypal.com), avec "info@mathieucopeland.net" comme adresse destinataire. Les commandes sont expédiées dans un délai de deux jours ouvrés, à partir de la réception du règlement, veuiller nous contacter si vous souhaitez une expedition plus rapide.

LIMITED EDITION - AN EVENING OF THE BOOK - 3 films by Mai-Thu Perret - DVD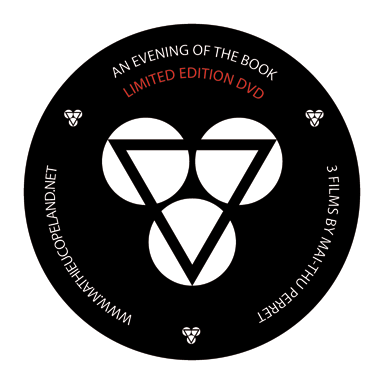 It is with great proud that we announce the release of a limited edition of 30 copies of the DVD 'AN EVENING OF THE BOOK', featuring 3 films by Mai-Thu Perret, & two original cuts of the screen printed wallpaper realized for the piece (Blue & Black on white, and Grey & Silvers on White), signed & numbered by the artist and arranged in an original envelope.
Originally produced for The Lyon Biennale of Contemporary Art and filmed on location at the Kitchen NY, Evening was conceived as a 'remake' of the 1924 agit prop play of the same title that was conceived as an experiment in mass artistic agitation for the book, and dramatized the conflict between old pre-revolutionary and new revolutionary books. Using actors from the academy of communist education, in a set & with costumes designed by Varvara Stepanova, it was a pantomime that culminated in the victory of the revolutionary heroes and a parade of libraries and new editions.
This performance, in which books and letters are actors in their own right, seemed a suitable starting point for the artist's first array into moving images. Using props sometimes inspired by those of the original evenings, such as the books or the sports costume, sometimes unrelated such as the fluorescent tubes, the cut out from the banner, or the commas, Mai-Thu Perret devised the outline of a choreography which was performed for the camera by a team composed of artist friends such as Amy Granat or Fia Backström, and professional dancers.

AN EVENING OF THE BOOK
DVD ALL ZONES
53 MINUTES
BLACK & WHITE - 4/3 - SOUND
ALL PUBLIC
ISBN: 978-2-917097-02-1
RELEASE DATE : 25 JANUARY 2008 (press release)

LAUNCH PRICE : 150€ / 200$ (shipping included)
to purchase - pour commander, please either use PAYPAL or email info@mathieucopeland.net
Filmstills "An Evening Of The Book", © Mai-Thu Perret, 2007
AN EVENING OF THE BOOK
3 FILMS BY MAI-THU PERRET
HOLES AND NEON ; BLACK AND WHITE, SILENT, 19' 28''
THE BOOK ; BLACK AND WHITE, SILENT, 15' 33''
DANCE OF THE COMMAS ; BLACK AND WHITE, SILENT, 10' 44''
FILM
WITH FIA BACKSTRÖM, TARA LEE BURNS, FAYE DRISCOLL,
LESLEY GARRISON, AMY GRANAT, ROCHE JANKEN,
EMILY MCKINNON, MAIKO OTA, ELIZABETH VALDEZ
FILMED AT THE KITCHEN, NEW YORK
MUSIC
"THE SPIDER SONG"
LYRICS BY MAI-THU PERRET
MUSIC BY STEVEN PARRINO